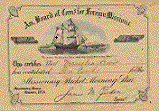 Welcome to ShipShares.Org
If you hear a higher calling, build a tall(er) ship!

Crowdfunding for Maritime!!!
"All these vessels were paid for by issuing ten cent shares to the children of America. The money came from all directions ... all the states of the Union, also from Turkey, Syria, China and Hawaii, in such abundance that notice was given that no more was needed. All that was not required to building the vessel was put aside for sailing it and for repairs." "www.janeresture.com/morningstar"